Search Engine Optimization (SEO) is a fast-moving industry with a steep learning curve that can be daunting to beginners. This SEO guide will attempt to cover everything you need to know about optimizing your website for search rankings in 2023 and beyond.
Jump to a Section:
We have a lot to cover, so let's get to it!
Search Engine Optimization (SEO) is the act of optimizing a web page in order to help it rank highly in a search engine results page for specific keywords. Most SEO discussion is focused on Google search due to its overwhelming market share, however, SEOs must still consider optimizing for other search engines like Bing, Yahoo, and even YouTube.
SEO is traditionally divided into several main areas of work:
On-page SEO – all content on a given web page including title tag, body content, and multimedia
Off-page SEO – links, shares, and authority signals from other websites
Technical SEO – page speed, UX, and indexing signals
Local SEO (Optional) – Managing business profiles and local listings
SEO work has considerable overlap with web design, user experience, and content strategy, and any successful SEO campaign must coordinate with email, social media, and PPC efforts in order to be truly effective.
Before we dive in, let's take a very brief look at the history of SEO and the current state of the industry to better understand some of the best practices we'll be discussing later in this guide..
Google's mission is to organize the world's information and make it universally accessible and useful
In order for Google (or any search engine) to do that, there are three basic things that need to happen:
Understand the true intent of the question being asked
Find the most relevant, specific answer to that question
Weed out bad or spammy results
Early SEO (2000's) was about stuffing your exact keyword everywhere – page title, meta description, URL, sub-headings, etc. and then building a bunch of quick links. It was all about the quantity of links and keywords over the quality.
Then in the 2010s, Google released a string of big algorithm updates (Panda, Penguin, & Hummingbird) that targeted spam and low-quality sites – and they were pretty effective. These updates marked the beginning of the modern "content is king" era of SEO.
Most recently Google has been making huge strides in natural language processing (NLP) in an attempt to understand nuanced queries and keep up with voice searches. Consider these two queries which represent how a user might have searched 5-10 years ago vs today:
Men's running shoes
What's the best triathlon shoe for men with back pain?
As searchers get more sophisticated, Google has developed equally sophisticated machine learning AI to understand not only the questions being asked, but also if a page did a good job in answering those questions.
SEO Ranking Factors: What Matters Today
So what ranking factors actually matter for your website in 2023?
Content – The two biggest ranking factors are both related to content: are you reliably publishing good stuff, and is the page title optimized?
Links & Authority – Links are still and always have been a major ranking factor, but their direct importance has dropped as Google develops other methods of measuring authority, represented by "niche expertise" here.
UX – User experience comprises many small optimizations: mobile-first, page speed, SSL, etc., but the most important signal is how users actually use your page ("user engagement"). If someone clicks on your page and immediately bounces back to find another result, that indicates your page isn't a great resource compared to a page that visitors regularly spend 5 minutes on.
Technical optimizations – Technical fixes aren't ranking factors per se, they're just things that are easy to get wrong that can stand in the way of your rankings like noindex tags, robots.txt, and broken links.
On-page SEO is everything on the direct page you are trying to rank, from the opening title tag to the closing </body> tag. This includes the title tag, meta description, on-page headings, body content, images, video, and links. For some SEOs, on-page optimization can be synonymous with "keyword optimization," although that's big oversimplification.
SEOs have been saying "content is king" for nearly a decade, and it's more true today than it's ever been in the history of SEO. I've seen new sites with little authority rank well because they pumped out amazing content that consistently hooked readers. I've also seen businesses with 10's of millions in revenue flounder because they paid copywriters to churn out low-quality, 500-word blogs with little strategy.
Keywords & NLP
Every SEO has strong theories about keyword placement and density. But what really matters in 2023 is simply that you use multiple variants of your core keyword with natural language throughout the page.
That's it.
Google knows what real language sounds like, and it also knows when content has been artificially stuffed with keywords. Stop chasing forced keyword density metrics. Any SEO that tries to tell you otherwise is wasting your time and money. That said, there are still some keyword best practices that can be followed.
Title Tag
As we saw above, keywords in the title tag are very important. This is the main signal to Google for what your page is about, so you better put some thought into it. Title tag matters for two main reasons:
Keyword match – make sure your core keyword appears exactly in the title. You can use extra characters to try and target long-tail variants if you want.
Click-through rates – make sure the title entices searchers to actually click on the page. CTR also has a direct impact on rankings. There's some data to show that shorter titles have better CTR.
Make your title tag between 30 – 60 characters and include your core key phrase once.
Meta Description
Keywords in the meta description do not directly affect rankings. However, any words from the searcher's query will be bolded in the meta description, which can improve CTR:
In general, you want to use 1 or 2 main keyword variants for the bold, and then focus on writing enticing copy that gets users to click.
Body Content
Body content is where many of the old rules about keyword density can be ignored. Make sure to try and include each specific long-tail variant you want to rank for at least once on-page, but beyond that, just write naturally.
The one exception – there is data that suggests the first 100 – 200 words carry extra weight since they set the tone for the whole page. Make sure you get right to the important content and skip any long-winded preambles or introductions.
Headings
Keywords in subheadings are another place where SEOs tend to get overzealous since this used to matter a lot. Subheadings matter because they organize the page visually for readers that are skimming or only interested in a specific subtopic. They're also really important for getting "people also asked" and "related search" snippets.
URL
While it used to be critical to include your exact keyword in your URL, you can now be a bit more relaxed about it. You still want a keyword variant in there, but don't go overboard stuffing multiple variants or anything like that.
The best URLs are short – 30 characters or less – and use 2-3 simple words to describe the page. There's a reason this page's URL is /seo-guide/ and not /seo-guide-content-keywords-optimization/
Multimedia
Content isn't just the words on the page – images, videos, and other files also contribute to your page rankings. While Google isn't perfect at parsing images and videos yet, which is why things like the file name, title, and meta tags all help.
Users also expect some media in 2023, which is why a few images or a video can help boost user engagement and reduce bounces. It also helps when promoting the page on social media or other channels, not to mention the chance to earn featured video or image snippets in the SERPs. Gone are the 10 blue links of old.
Word Count
Word count can be a useful tool for gauging roughly how long a piece should be – is this a short FAQ? Product detail comparison? Exhaustive deep dive?
Make your content as long as it needs to be to fully answer a question or cover a topic. Numerous studies have shown that the top results usually have higher word counts:
But chasing word count first and saying "this piece must be exactly 2,000 words" is missing the forest for the trees. There's no magic number, but longer pages with more words generally indicate better overall coverage of a topic.
Be Helpful. Answer Questions.
At the end of the day, useful content answers questions. Quit worrying about keyword placement or hitting artificial metrics, and make the best content that gets at the core of your given keyword.
Off-page SEO is all about how authoritative your site is; how trustworthy are you in the eyes of Google? Off-page SEO involves link building, sharing content on social media, doing the rounds in traditional media, and generally spreading the word about your brand and content.
Links
Historically this was judged by the number of other pages that linked to you. The thinking is that, if everybody in your niche is linking to your page, then it must be really important and useful. And, by extension, anything else that you publish is probably also high-quality and useful.
The underlying premise is still largely true, it's just that Google has more data to use than it did in the early 2000s, and so can use more than just links. Social media mentions and shares count, as well as indirect brand mentions on other websites.
Link building is a notoriously nuanced and tactical side of SEO. Check out these excellent link-building guides for more info on the topic:
E-A-T
E-A-T stands for expertise, authoritativeness, and trustworthiness. It is not one specific ranking factor, but rather a combination of many, many factors that Google uses to determine if a page is high quality or not. It stems from the Google Quality Rater Guidelines.
EAT looks at things like:
Is this website a known, reputable publisher?
Does the author have any credentials or expertise?
Is the subject matter particularly sensitive? (health, money, etc)
What is the social sentiment around this website/brand?
Any traditional outreach and media work that is essential to link-building will also help improve EAT. It's not something worth worrying about as an exact metric (there's no reliable way to measure it), but EAT should be behind every decision you make regarding link building and outreach.
Technical SEO is the act of optimizing the technical factors on a website so search engines can crawl, index, and more effectively rank a web page in search results. It includes making sure pages are properly indexed, are secure, load quickly, and contain no malicious elements.
Technical SEO can have many hard-to-find "gotchas," which is why I recommend that beginners simply follow along with a good technical SEO audit or checklist to make sure all your bases are covered.
Technical SEO Basics
The basics of technical SEO are rooted in making sure the right parts of your website are accessible and indexable to search engine crawlers. This means:
Making sure no key pages are set to "noindex"
Key site hierarchies are represented in a sitemap and robots.txt
URLs are clean and easy to understand
Website is mobile-friendly
The proper legal disclosures are made (Terms of Service, payment processing, affiliate disclosures, handling of user data, etc)
No duplicate content on the website and proper canonicalization is in place
Many of these optimizations won't be noticed if you're doing everything correctly but can have drastic negative effects if you mess them up. For example, it's easy to accidentally create duplicate content issues from content category archives creating multiple versions of the same post, resulting in Google not indexing the version of the page you want it to.
Core Web Vitals
Core web vitals are a series of page experience metrics that Google has started using to gauge how healthy a page is from a user's point of view. The three main metrics that comprise core web vitals are:
Largest Contentful Paint (LCP) – How long does it take to render the main content of the page?
First Input Delay (FID) – How long until a user can actually interact with the page?
Cumulative Layout Shift (CLS) – How much does the visual stability of the page change during loading? Does content and media jump around as the page loads?
Core Web Vitals are still a relatively minor ranking factor in the grand scheme of things. Think of them as a tiebreaker between two pages that already have awesome content.
Structured Data and Schema
Structured data is any content on a web page that is structured or tagged in a way that separates from the standard text content on a page. Structured data makes it easier for search engines to parse and comprehend unusual types of data and media. Structured data is particularly useful for UX for blind, deaf, and disabled persons.
Examples of structured data include:
Product information – price, availability, size, colors, materials, etc.
Reviews and other user-submitted data
Brand knowledge and authorship cards
Tables and lists
Images, video, and other multimedia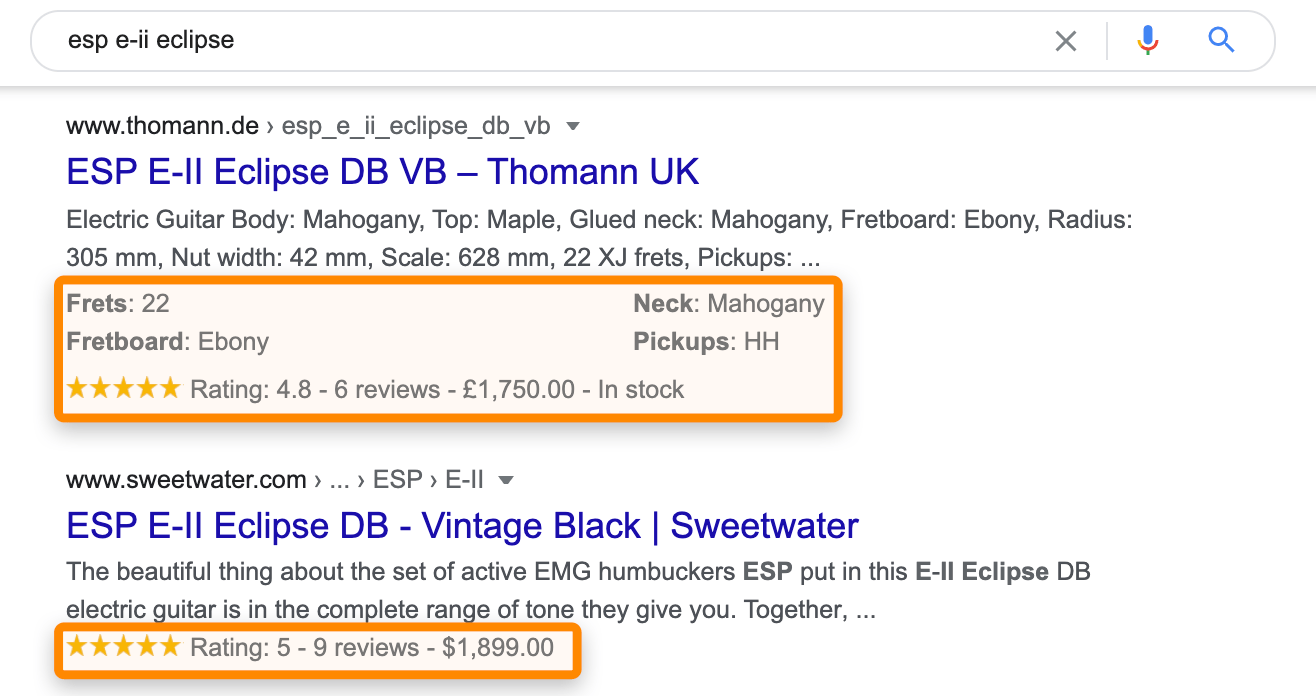 The most common implementation of structured data is through schema.org, which contains hundreds of established structured data classes.
Structured data is particularly important in a "post-10 blue links" world, where capturing rich snippets directly in SERPs (particularly for products and business reviews) and voice search is increasingly important.
Site Architecture
The last major element of technical SEO is site architecture and URL structure. Since Google has to regularly crawl your entire website, it helps the process if the site is organized into a clear hierarchy of pages and subpages, to give content about how each page fits into the big picture.
For example, on a big eCommerce site, there should be clear hierarchies that delineate product pages, blog posts, corporate info, help and support, etc. And even within product listings, it is essential to include categories and subcategories to give search engines context about each of those products.
General best practices for URLs and site architecture are:
Make URLs clean and human-readable. Shorter is generally better.
Ensure all pages fit into a hierarchy on-site, and that the hierarchy is clearly represented in nav menus
Ensure page depth is not too great and that there are no key pages are buried or orphaned
Make logical groupings and try to ensure an even distribution of content between groupings
Here's a great example of good and bad site architecture from Backlinko: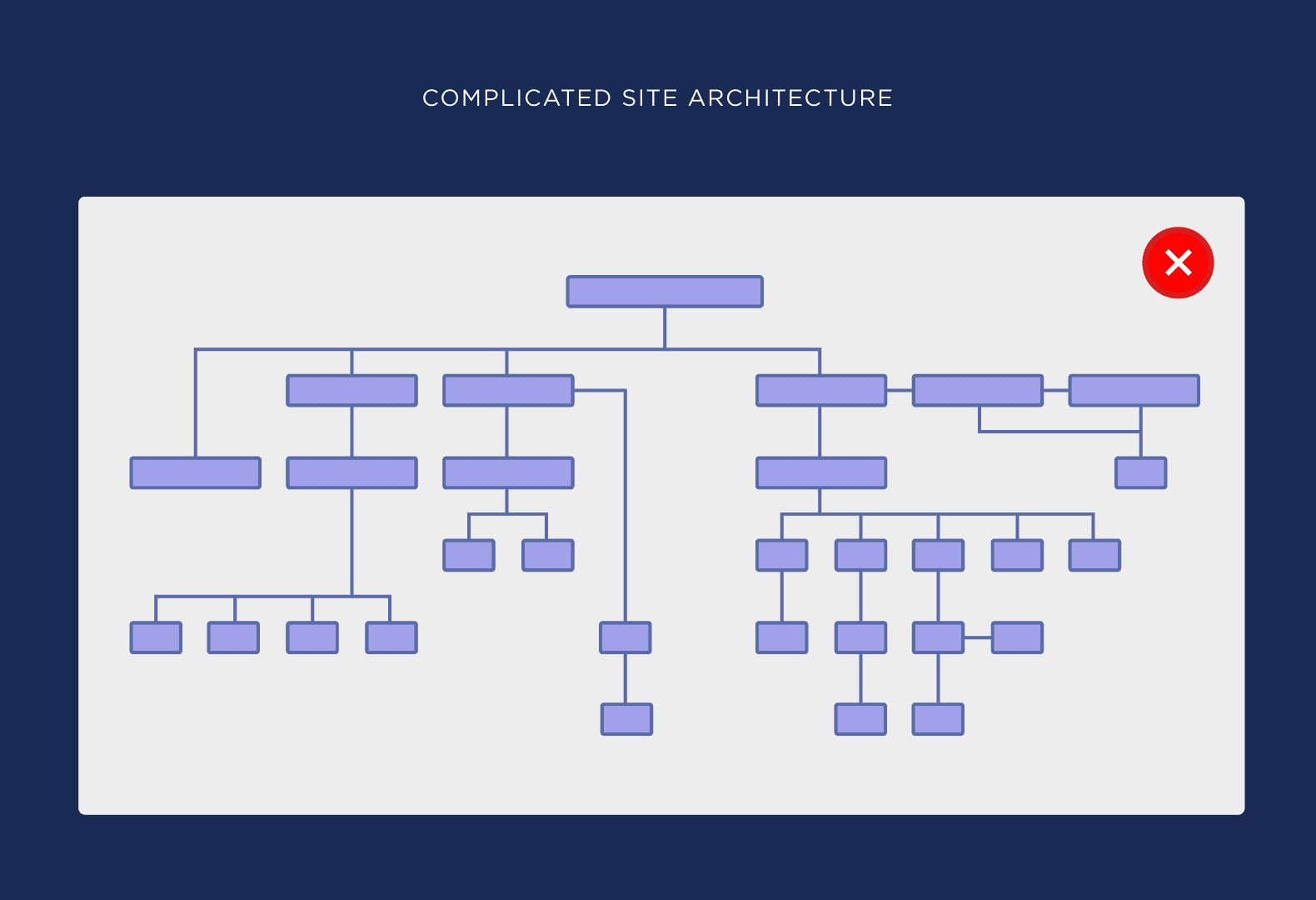 One last major work area of search engine optimization that's worth touching on is local SEO. Local SEO is optimizing your website (or, often a specific business profile) so that it ranks in special map packs for local search queries.
Local SEO involves ensuring your NAP – Name, Address, and Phone – are consistent across your website and all other local search properties. Managing reviews and customer engagement are also important aspects of local SEO.
Local SEO is kind of "all or nothing" in that it's often the most vital aspect of SEO to any business with a brick-and-mortar presence but matters very little to strictly online businesses. It is also a unique aspect of SEO in that most work takes place in a private business profile vs a website (e.g. Google Business and Bing Places)
Frequently Asked Questions
Does SEO Matter Vs. PPC/Email/Social Media?
Absolutely. SEO often gets relegated to an afterthought for businesses because it does not provide the same instant gratification provided by PPC or social media. The problem with these channels is that they require constant attention; if you stop posting, you lose your traffic. SEO is much longer-lasting in that high-quality content can generate leads and sales for years after it was originally published.
It's not an "either-or" scenario either. SEO is best when supplemented by other digital marketing channels, and vice-versa.
How Do You Find Profitable Keywords?
This topic deserves its own guide, but in a nutshell:
Pick a core keyword related to your core offerings
E.g. "running shoes"
Use a keyword suggestion tool to find long-tail permutations and variants
E.g. "trail running shoes," "triathlon shoes," "running shoes for bad knees"
Use an analysis tool like SEMrush to analyze search intent, competition, structured data opportunities, and search volume for each of your long-tail variations
Combine topics and subtopics into cohesive blog posts or landing pages
What's the Best Way to Get Links?
Link building is incredibly tactical work, and the best approach often depends on the specifics of your niche, budget, competitors, and audience. That said, most of the best link-building tactics come down to one core idea:
Make something unique that people simply have to share.
This could be an amazing blog post, a simple browser tool, original research, a creative visualization, or even a funny video. Then, you have to actually knock on doors and do outreach to other influencers in your space and convince them to share or link.
My Rankings Disappeared Suddenly. What Happened?
One of two things: either something changed on your website that affected rankings (e.g. accidental noindex tag), or Google updated its search algorithm.
While there are only two or three major Google updates each year, Google is testing and rolling out changes to SERPs on a daily basis. Google is notoriously quiet about algorithm updates, so the best way to confirm is to check a reputable source on SEO news such as searchenginejournal.com.
Which SEO Tool is Best?
Many SEO tools try to do many things at once, which often results in a "jack of all trades" situation. What I've found is that each tool has one or two use cases where it shines, and performs adequately at the rest. 
SEMrush and ahrefs are the two best all-around SEO tools for most users. SEMrush has slightly better keyword research and SERP tools, while ahrefs is considered better for outreach and linking analysis. ScreamingFrog is an amazing site crawler that can identify hundreds of potential optimizations. Likewise, tools like SpyFu can give you interesting insights into competitor data and opportunities they are pursuing that you are not.
If I had to pick one tool, I'd probably pick SEMrush due to the fact that it can do everything an SEO pretty well. But again, the best SEO tool is usually the one that was built for the specific thing you're trying to do.
Looking for more information on SEO best practices and ways to improve your skills? The following resources and guides cover concepts every professional SEO should understand:
The Future of SEO in 2023 and Beyond
Search engine optimization is a vital pillar of modern digital marketing. While the minutiae of SEO can get incredibly nuanced, there is one overarching best practice that webmasters can follow: create amazing content that answers user questions.
Every year search engines are getting much better at understanding questions, answers, and language in general. While SEO has a long history of using quick tactics to stay one step ahead of search engines, it's pretty clear that search engines finally have the upper hand going into 2023. SEO tactics may fluctuate in the short-term, but amazing content will stand the test of time.